Reopening MAAKbar
From Wednesday 20th May we carefully open the door at MAAKbar. We will only be open on Wednesdays between 2 pm and 5 pm and on Saturdays between 11 am and 4 pm. How are we going to work temporarily?
 
Lending of tools

You reserve, we disinfect the material and you come to pick it up at an agreed time.
If you are already a member of MAAKbar, you can book immediately.
Not a member yet? Send an email with name, address, email address and telephone number to This email address is being protected from spambots. You need JavaScript enabled to view it. and indicate which membership you prefer.
Deposit the amount into account BE 61 9730 1900 0617
Become a CORONA member for 1 month, cost is 10 €
Become a CORONA member for 6 months, cost is 20 €
Play safe. Become a member of the tool library MAAKbar for one year, cost € 30
 
Repair cafes with a time slot
We now do Repair Cafés with a time slot and by appointment only.
At the moment only minor electrical repairs are possible, on the first floor of MAAKbar.
Book here if you want to come by. Or call 0473 17 05 12 during the MAAKbar opening hours (Wed 2 pm-5pm and Sat 11 am-4pm).

You get Magda on the line, she books an appointment for you.
 
Corona appointments
Come alone to MAAKbar, only one person may go up or down at the same time. Wait outside if someone is already inside.
If you want to purchase a subscription, it is best to pay via deposit to our account number or bring the exact amount.

Always disinfect your hands, everything will be ready at MAAKbar at the entrance.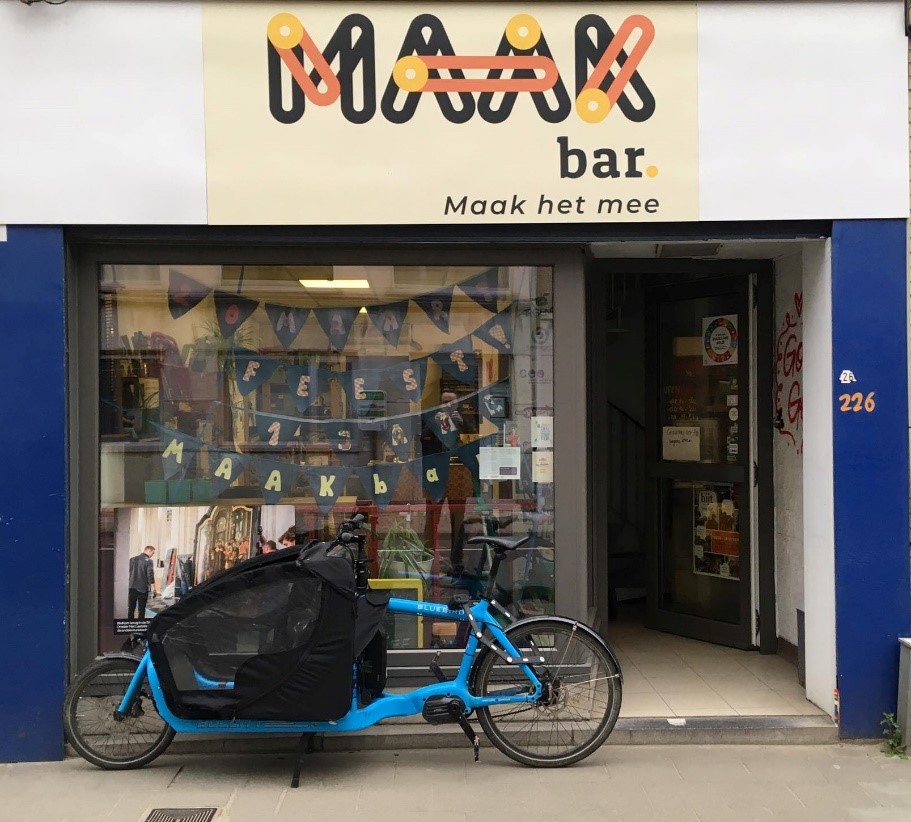 MAAKbar attracts volunteers for mouth masks
Last week we received the question via the City of Leuven whether we wanted to take on the coordination of making fabric mouth masks. After all, the Leuven care sector is urgently looking for cloth mouth masks that meet the standards.
Since there are often repair cafes for repairing clothing and workshops for upcycling clothing from old fabrics at MAAKbar, we have sewing machines and a network of experienced seamstresses and sewers.
We started immediately. We placed an urgent call for volunteer seamstresses and bicycle couriers on social media and our Newsletter. We also looked for fabrics and ribbons that meet the standards of the sewing pattern that the FPS health distributed.
There was a lot of immediate response. At the time of writing, 400 people are putting on mouth masks and 80 bicycle couriers are distributing fabrics and ribbons. In total, 12,000 mouth masks will be made by volunteers in the first round. Finished mouth masks are collected in the City Office and in the sports halls in and around Leuven. After collection, they are sterilized and then delivered to the relevant services.
At MAAKbar we note that, even during the corona crisis, the sense of citizenship and commitment in Leuven is extremely strong. People are selflessly committed to helping their fellow human beings during this difficult period.
Thanks to the city of Leuven and its motivated employees for the great cooperation. Together we make the difference.
Want to help make mouth masks?
Mail This email address is being protected from spambots. You need JavaScript enabled to view it.